Milwaukee's 5th Data Day
"No data without stories, no stories without data."
Data Day 2019 will be Tuesday, October 22nd
at the Northwestern Mutual's Cream City Labs, 733 N Van Buren St.
Data Day 2019 is being supported by: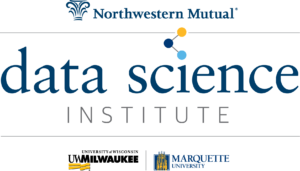 Why should I come?
IGNITE presentations featuring local dataphyles offering lightning round presentations on data of all types- watch top IGNITES from past Data Days here!
Data Dream competition: an opportunity to make your data dream come true with coaching from the [Data Science Institute]
"Ask a Data Scientist" with Code for Milwaukee
The launch of MKE indicators sponsored by the Community Development Alliance and Data You Can Use, Inc.
How can I be involved?
If you'd like to submit a Data Dream to win up to $5,000 of data support, fill out this application!
If you'd like to present an IGNITE: please contact Carrie@datayoucanuse.org
If you'd like to show a poster, please contact Katie@datayoucanuse.org
Continued announcements and updates on Data Day will be listed here, and shared with our mailing list.