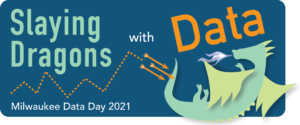 FOR IMMEDIATE RELEASE
Four Milwaukee-Area nonprofits receive the 2021 Data Dream Award which provides $10,000 in pro-bono research services to help agencies use data for better results
Data You Can Use, a nonprofit research group, also names their new president, Dr. Victor Amaya
(Milwaukee, WI, October 20, 2021) –  Data You Can Use (DYCU), a Milwaukee-based nonprofit research group, named four nonprofits as winners of their Data Dream Awards, and announced the appointment of a new president, Dr. Victor Amaya, during their 7th Data Day conference.
The Data Dream Award provides $10,000 in pro-bono services to help nonprofits gather and interpret data to improve the effectiveness of their programs. Pro-bono services are provided by Data You Can Use and the Northwestern Mutual Data Science Institute. Winners were selected through a competitive process and vetted by a panel of expert judges in data sciences and philanthropy.
"Data You Can Use is pleased to expand the Data Dream award this year by doubling our services to each winner. We look forward to helping the Data Dreamers get the information they need to make good decisions which support effective programs and services in the Milwaukee area," said Dr. Kathleen Pritchard, president and executive director of Day You Can Use.
Winners and sponsors of 2021 Data Dream Awards include:
Data You Can Use announced the winners at their 7th Data Day, an annual conference for leaders, from neighborhoods to universities, who want to better understand the implications of data on community revitalization, and to increase connections between research and practice.
During the closing of Data Day, Founding Executive Director and President, Dr. Kathleen Pritchard, announced Dr. Victor Amaya as the organization's next President. Dr. Amaya will start December 1, and Dr. Pritchard will retire on December 31st, 2021.
Appointed by the board of directors, Dr. Amaya will lead Data You Can Use's strategy and operations with a goal of increasing the use of data to drive impact and improve conditions in the community.  Dr. Victor Amaya is a veteran educator, instructional coach, and school leader. Most recently, he led the Impact Department at City Year Milwaukee, the local affiliate of a national educational non-profit. Dr. Amaya was born in Tampico, Tamaulipas, Mexico, and immigrated to Milwaukee when he was twelve. He is an MPS graduate of Riverside University High School and earned his BA in Sociology and Spanish from the University of Wisconsin-Parkside. Dr. Amaya holds a Director of Curriculum and Instruction license and a District Superintendent's license and earned an MS in Administrative Leadership, and a Doctorate in Leadership in the Advancement of Learning from Cardinal Stritch University.
Data Day also featured keynote speaker, Dr. Emmanuel Letouzé, Director and Co-founder of the Data-Pop Alliance, who shared his knowledge regarding using data as a "language, lens, and lever" for social change.
Two hundred participants, primarily from the greater Milwaukee area, attended the virtual Data Day, which also featured presentations from local agencies. All Data Day presentations are available at https://www.datadaymke.org.
###
About Data You Can Use:  Data You Can Use is a Milwaukee-based nonprofit organization. We help people access data and make it useful in improving community conditions. We help connect people who need data to people who have data and assist in accessing, analyzing, translating, interpreting and presenting data. We can help you ask the right questions to get the right data, put it into a local context, present it visually and put it to work in addressing issues important to you. We subscribe to the principles of the Urban Institute's National Neighborhood Indicators Partnership and work to democratize data by building local capacity, sharing best practices and helping users sort through the data to surface, explain and address issues of concern. We know this takes technical expertise, knowledge of local context, the ability to convene and collaborate with multiple stakeholders and trust.  https://www.datayoucanuse.org/