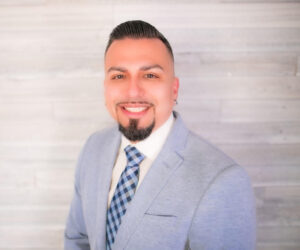 FOR IMMEDIATE RELEASE
Dr. Victor Amaya will serve as the new president of the Milwaukee-based nonprofit research group, Data You Can Use
(Milwaukee, WI, October 20, 2021) – Data You Can Use (DYCU), a Milwaukee-based nonprofit research group, announced the appointment of a new president, Dr. Victor Amaya, during their 7th Data Day conference on October 20, 2021. The organization's founding executive director and president, Dr. Kathleen Pritchard, will retire on December 31st.
Appointed by the board of directors, Dr. Amaya will lead Data You Can Use's strategy and operations with a goal of increasing the use of data to drive impact and improve conditions in the community.  Dr. Victor Amaya is a dynamic leader whose mission is to create opportunities, invest in people, and break down barriers, especially for those most impacted by inequities.
"The Board of Directors is pleased that Dr. Victor Amaya has agreed to lead Data You Can Use into the future.  His combination of community experience and passion for our mission will enable us to continue and expand the legacy established by our founder Dr. Katie Pritchard," stated Tom Hlavacek, Chairman of the Board of Directors for Data You Can Use.
Dr. Victor Amaya is a veteran educator, instructional coach, and school leader, with a focus on success measures and impact. Most recently, he led the Impact Department at City Year Milwaukee, the local affiliate of a national educational non-profit, where he used data to create systems and success measures, and worked collaboratively with local, state and national leaders. Dr. Amaya also served as the Interim Executive Director where he built strong partnerships with Milwaukee Public Schools, City Year Board of Trustees, corporate and philanthropic partners, and the wider community.
"As a first generation college graduate and son of Mexican immigrants, I was drawn to Data You Can Use to create equity for communities of color. I am excited to lead the organization's efforts to build on its success and ready to partner with community stakeholders to continue the mission of democratizing data to make better decisions as a community. Data You Can Use at a unique point in its history, and it is great time to reflect on what has been and what is still to come. It is also a time to build bridges and develop strategies to meet and expand our mission and build a stronger community. This is a great time to be a part of this organization and I fully embrace this opportunity to lead," said Dr. Amaya.
Dr. Amaya was born in Tampico, Tamaulipas, Mexico, and immigrated to Milwaukee when he was twelve. He is a MPS graduate of Riverside University High School and earned his BA in Sociology and Spanish from the University of Wisconsin-Parkside. Dr. Amaya holds a Director of Curriculum and Instruction license, and a District Superintendent's license and earned an MS in Administrative Leadership and a Doctorate in Leadership in the Advancement of Learning from Cardinal Stritch University.
Dr. Amaya's motto is "No Data, No Decision," which he borrowed from his dissertation chair, Dr. Peter Jonas. Collaboration is at the core of Dr. Amaya's work as he believes in building supportive relationships with all stakeholders to increase the success of the community members. His experience includes staff learning and development, coaching, relationship and partnership development, strategic planning, organizational growth and development through data-driven decision making.
"To not only become a part of the Data You Can Use community, but to be named as the next President, is the privilege of a lifetime. I am forever grateful to the Board of Directors and Dr. Katie Pritchard for all they have built over the last few years, and for their confidence in me," said Dr. Amaya of his recent appointment.
Dr. Victor Amaya is a proud resident of the South Side of Milwaukee where he lives with his 12-year-old son also named Victor. In his free time, he enjoys reading, exercising, traveling, and enjoying what Milwaukee has to offer.
###
About Data You Can Use: Data You Can Use is a Milwaukee-based nonprofit organization. We help people access data and make it useful in improving community conditions. We help connect people who need data to people who have data and assist in accessing, analyzing, translating, interpreting and presenting data. We can help you ask the right questions to get the right data, put it into a local context, present it visually and put it to work in addressing issues important to you. We subscribe to the principles of the Urban Institute's National Neighborhood Indicators Partnership and work to democratize data by building local capacity, sharing best practices and helping users sort through the data to surface, explain and address issues of concern. We know this takes technical expertise, knowledge of local context, the ability to convene and collaborate with multiple stakeholders and trust.  https://www.datayoucanuse.org/